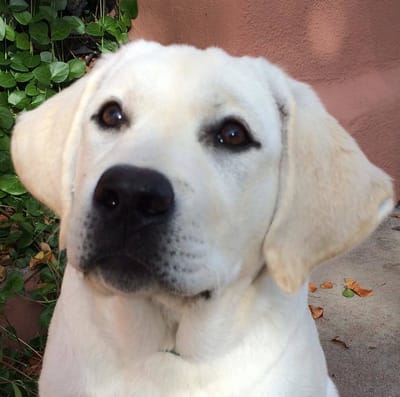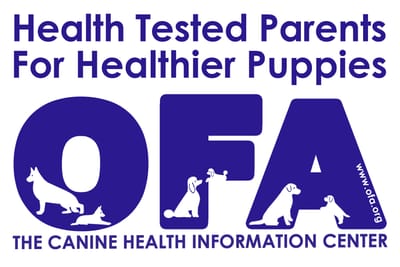 SEE OUR PUPPIES LIVE ON OUR YOUTUBE CHANNEL -
https://www.youtube.com/@texaswhitelabradors7453
Sugar Run's -Texas White Labs is a small operation located in Frisco, Texas, specializing in high quality White Labradors with great temperament and awesome loving personalities.
We whelp and raise all our puppies in our master bathroom, kitchen and outside at times during the day and back in the bathroom at night from 5-7 weeks. These puppies are not kept outside for any extended period or overnight, period. They are constantly supervised while under our care.
Our labs range in color from snow white to very-light cream. They love to play fetch, stay by your side, and they can be trained to hunt. We breed both the English and American type of Labradors and our litters are a combination of the two.
Our primary concerns in order of importance are: Health, Temperament, Socialization, and then Coat Color.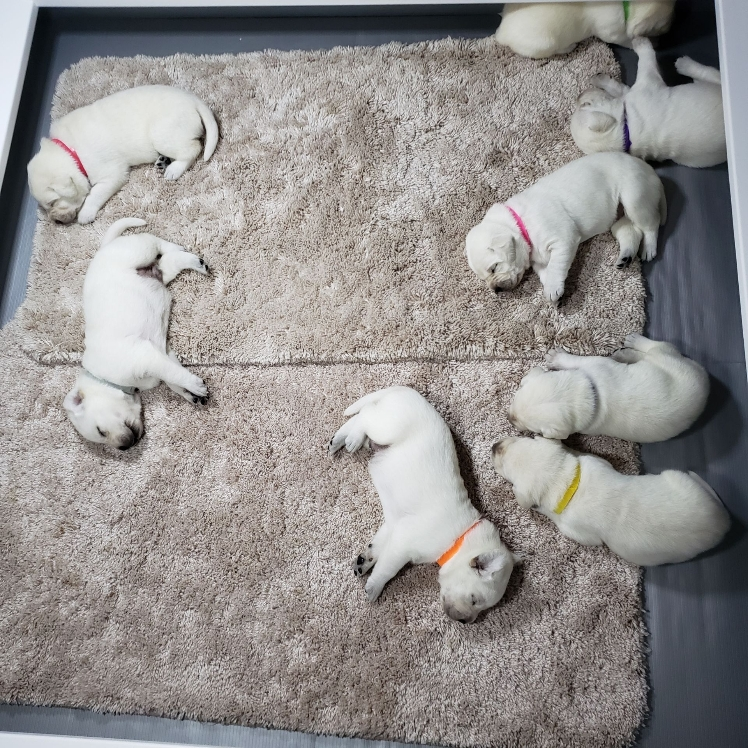 We
Live Stream
the puppies from the birthing process through 7 weeks of age!
Click Here to subscribe to our YouTube Channel
to see us when we go live!
Click here for our videos
Your puppy comes with limited registration. Full registration is possible for established breeders and show prospects. We are very careful to insure our puppies go to fantastic homes, while insuring that there is no possibility of adding one single dog to the unwanted dog population.
We interact with our puppies constantly. We introduce them to Bio Sensor and Early Neurological Stimulation at 3 days and continue until they are 15 days old.
As they get older, (4 weeks) we allow them in the kitchen, family area, and in the back yard. They are well socialized with adults (human) as well as other adult dogs in a warm and loving atmosphere. We can hold them in our arms, on their backs and cradle them like a baby.
We pride ourselves on producing sound, soft, teddy bear-like puppies that grow into wonderful house pets, service and therapy dogs. We don't have a kennel.
These dogs are house dogs, 100%, and we expect our puppies to go to loving homes where
crate training is the standard
and not to be left outside or in different parts of the house away from where you are.
Labradors are very affectionate and social creatures. BUT, if kept isolated, they can develop habits such as digging, chewing, barking, and generally destroying anything in sight.
We socialize and handle our puppies several times throughout the day and exposed to all the normal (and sometimes, not-so-normal) goings-on of family life. We try to expose them to as many different sounds as possible so that when they come to your home, some of these sounds are familiar. We also begin using a crate as a group and individually as soon as age appropriate.
When it is time to go to their new homes, our puppies are very close to being potty-trained, but are in no way house-broken, they will let you know when they need to go outside, but they can't hold it for too long.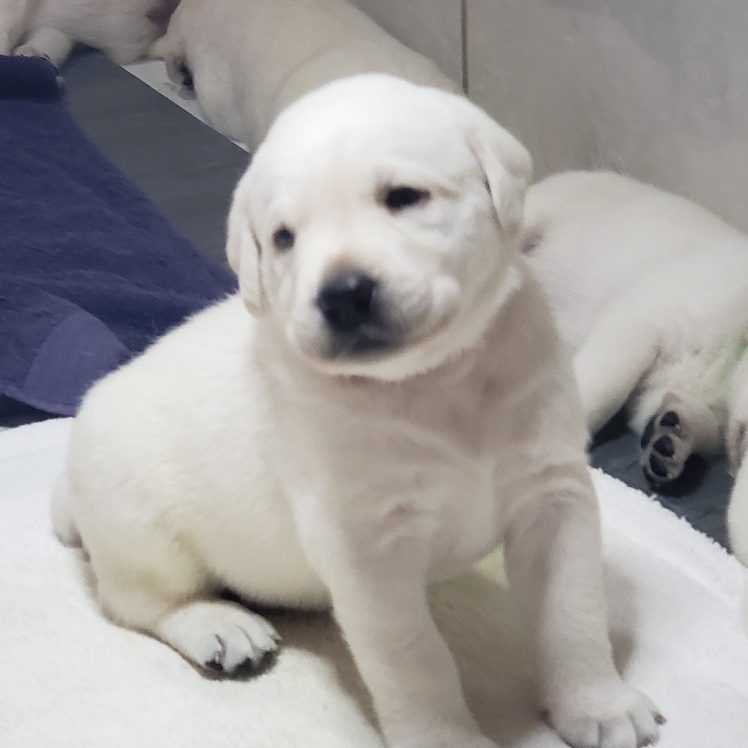 We regularly get reports of successful potty-training as well as "sit", "shake", and "lay-down" at eight to nine weeks!
We offer a "head start" for our puppies in a loving environment.
We grow very fond of our puppies and it's very hard to see them leave, but we know that we have found what we think will be the ideal forever home for our pups.
We love getting pictures and updates of our puppies. And we encourage all puppy owners to keep communications open and send lots of pictures as they grow.
All our puppies are up to date on shots and worming. They will be micro-chipped, preregistered with the American Kennel Club, and come with a written contract that they are clear of inherited hip problems for a period of
30 months
. And since our dogs are tested before breeding, it enables us to also cover over 182 genetic defects
for the life of your puppy
. We test and breed only OFA certified dogs for the best possible hips, elbows, eyes (CERF and PRA). We also test the heart, verify full detention, and normal patella.
Registration is AKC Limited. Inquire for Full Registration. The color will be registered as yellow.
Our primary concerns in order of importance: Health, Temperament and Socialization, and then Coat Color.
*WE RESERVE THE RIGHT TO HOLD BACK, KEEP, OR NOT SELL ANY PUPPY FOR ANY REASON*
THANKS FOR LOOKING AND GOD BLESS